Filter by Category
Arts & Crafts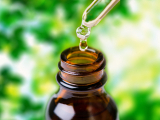 Make And Take Gifts With Essential Oils #1
with J Wilhelm

May 10, 2018 at 6 pm

, runs for 1 week
Maybe you've been hearing about essential oils and are curious, or maybe you just like finding ways to make gifts for others and things to use at home for yourself. Whether it's either, both, or neither but you like to have fun, we'll have a casual get-together that will be fun and informative, too! Learn about essential oils, how they're made (don't worry, we won't get too science-y!), and all the ways they can be used from making our houses smell good to replacing beauty products to supporting our physical and emotional health (because, as we know, the emotions - stress is a great example - can affect our physical health, too!). And you'll get to make a couple goodies, too, and get the recipes to make more! These are easy to make and are great to use yourself and to give as gifts for teachers, friends, family, and more. We'll be making bath salts (not THOSE kinds) that double as shower bombs and room sprays (there will be choices of a Sleepy-time and an appropriate seasonal-inspired one). And, as an extra bonus, some all-natural cleaner for around the house and some additional easy-peasy but good recipes! This session will be offered twice, so please pick from one or the other of the two dates/times.
Painting With Maine Coffee And Canvas
with B Marking

May 3, 2018 at 6 pm

, runs for 1 week
Have a fun and relaxing night painting with step by step instructions. With each clas syou will walk away with a painting of your own that yu can be proud of. Supplies Fee of $6.25 paid to instructor the night of class.